After a ton of research and trial and error I've nailed down the best battery/charger combo for home use. My rechargeable arsenal is composed of AA and AAA batteries. We use them for everything from TV remotes to game controllers. Initially I started researching rechargeable batteries because of the massive amount of batteries we consumed. We run multiple systems in my house. Between our Sony Play Station (PS3, PS4), XBOX 360, XBOX One and WII you can imagine the AA burn out in my house. But since we made the switch to rechargeable it has been well over 5 years since I've had to purchase new batteries. Let's look at what I settled on for my family. The best rechargeable battery and charger combo for the gaming family.
My Rechargeable "Must Have" Criteria
Portable charger
NiCd and NiMH rechargeable
AA and AAA batteries
long lasting power
2,000 plus recharge ability
The Best Rechargeable Batteries
Now let's talk about the rechargeable batteries I chose for my game controllers. Many rechargeable batteries (all batteries for that matter) discharge "power" and lose the charge overtime. Since I'll be using these batteries for my game controllers I wanted batteries that don't drain much over time. Yet still providing long term gaming before needing to be charged again. The eneloop rechargeable batteries are perfect rechargeable batteries. They hold their charge long term and still perform like new after several years of heavy use in my game controllers. The difference between these batteries and the normal non-rechargeable batteries is negligible.  For gaming you want maximum recharge capacity (2100 times) so use the 4th Generation Panasonic Eneloops (800 mAh) that I've linked below.
Better designed than any other rechargeable AA battery, Eneloop batteries are the battery of choice for many gamers. Eneloops can be recharged up to 2100 times, and based on my experience they can sit in a drawer for over a year and still run strong when called upon. According the technical specifications these rechargeable batteries maintain 90% of their charge after 6 months. And a whooping 70% of their charge at the 5 year mark. Like I said, based on my experience this is all true. Looking at the chart below you can see the superior cycle life of the eneloop rechargeable battery. This makes it perfect for repeated use when gaming.
The Best AA/AAA Battery Charger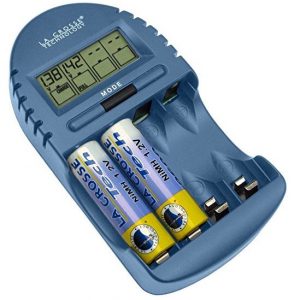 The battery charger I chose only charges AA and AAA because it's all I need for my game controllers. Many chargers I read about could catch fire if not turned off. Others would not fully discharge the batteries then shutoff when the batteries became fully charged. After 1 full year of use I highly recommend the La Crosse Technology BC500 alpha power rechargeable battery charger. This little guy only charges four at a time but that's perfect for us.
My Personal Experience
I purchased about 30 AA and 10 AAA eneloops. Then I charged them all and loaded them into all of my controllers and remotes. I keep 2 of each type in the kitchen drawer for flashlights and such. I find myself charging a set of batteries about every other month, which is insane. That's about the rate I was buying batteries! I've saved a ton of cash here folks! If you're like me and tried the big box store combos and were disappointed, I can firmly assure you that the setup I've recommended here is top of line. You won't be disappointed!