New to wordpress? Here's the quick and dirty for publishing articles.
You'll learn a few formatting options, how to add a featured images, categories, tags and in-article images. No fear! WordPress is simple to learn and many of the options available when creating an article are explained by simply hovering your mouse over the icon to learn what it will do.
STEP 1
Login to the website: usually at the URL http://change-me.com/wp-admin
STEP 2
Click "post" – "Add New" in the left hand menu
There's a couple rules for adding a post on FK.
The first letter of every word in the title must be uppercase.
The content must be properly formatted. Read more here. Use the H3 for sub-headlines. Use list and unordered list etc
Add ONE Category
Add the tag "news" if the article is news related.
Add a featured image – can't be smaller than 300 BY 300 – NO larger than 600 by 600
Proof read and publish.
View article in all it's glory on the front end, what the readers see =)
Share on social networks to improve reads.
Click the image below and read the text in red for specific details!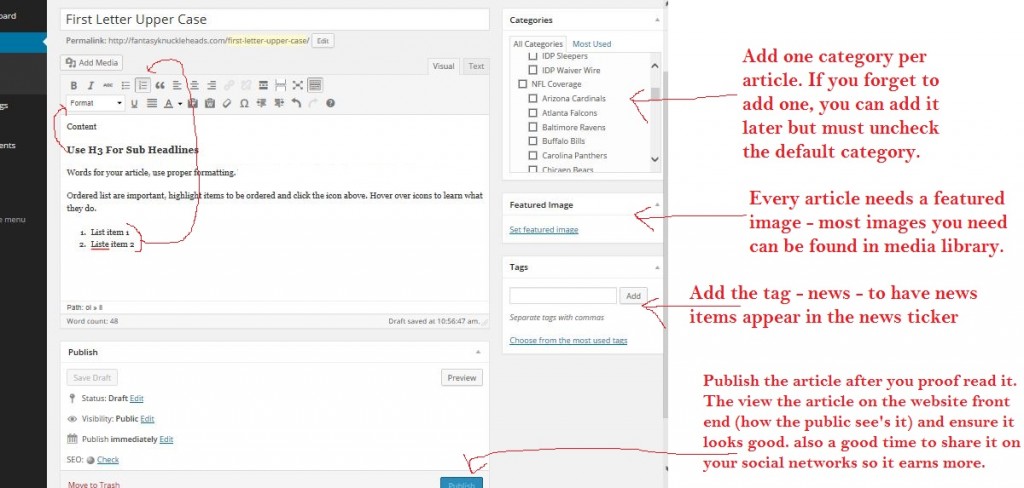 STEP 3
How to add a image into your article.
Most article look better with an image inside of them. The featured image IS NOT used inside the article. The featured image is used on the homepage and category pages of the website.
Now, let's add an "in-article" image.
Click "Add Media"
From there you can upload a file or search the existing photos in the library.
If a photo doesn't exist in the media gallery I recommend you search here (creative commons – click fotopedia). If you upload a photo, you first need to name the photo what the photo is about, example: peyton-manning-super-bowl.jpg – notice how spaces in the name of the image are replaced with hyphens.
Now it's time to insert the photo into the article – first do the following.
Align the image left / right or center – small images under 330 px are best – align them right.
Choose – "link to none" – this stop people from clicking the image and keeps them reading.
Choose the size you want to use – under 350px is best.. which is usually the medium setting.
Click "Insert into Post"