Related: You may also want to read my analysis of DBAN.
According to Gartner Dataquest statistics, in April 2002 the billionth PC (personal computer) was shipped. The second billion mark was supposedly reached in 2007. That's about 1 billion computers in 5 years and I'm sure, with the price of the computer dropping, the number increases every single year. According to wikipedia "As of June 2008, the number of personal computers in use worldwide hit one billion, while another billion is expected to be reached by 2014"..
Usually, for every PC purchased there is a PC trashed, sold or donated. Before you throw away, sell or donate your PC you should keep this in mind:
People with bad intentions will pick up your PC off the road.
People with bad intentions will search the local thrift for donated PC's.
What are these "bad intentions" and why should you care?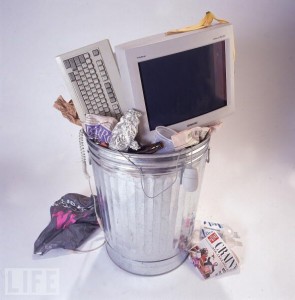 Almost every single file you delete on your PC can easily be recovered; deleting files isn't removing them forever! Disk Format doesn't remove data either! All kinds of data is on your PC, even if you delete it! Things like:
Passwords saved in Internet Explore or Firefox.
Cookies from sites you've visited that will allow anyone that picks up your PC to be able to use it as if they're you, checking your email etc.
Files with personal information like tax returns, password list, family photos etc.
Now I hope you understand that just selling or donating your PC without properly preparing it is a bad mistake. Your PC sitting on the site of the road is a target for people with bad intentions.
Don't worry I'm here to help you. Here's a list of things to do before you sell, trash or donate your computer.
Take note of the software on this PC, do you have the installation and keys for this software? If not then do you need to keep the PC working until you can replace the software?
Make sure you have all your data (things like photos, documents) saved to an external drive, or maybe just burn it to CD.
Backup your web favorites in Internet Explore or Firefox.
Finally you'll want to erase your computer with free software like dban. DBAN is suitable for use prior to disposal because it wipes over the disk so many times it makes recovery of the data which used to live on that disk virtually impossible to recover. Keep in mind with large sums of money anything is possible.
If you have the spare room you may also consider keeping the PC and its cables, keyboard, speakers and mouse. You never know when your computer may break or get a virus. I'd still clean the old PC before you put it into storage. Clean the PC means wipe it with DBAN and maybe reinstall the OS just so it's ready to rock and roll should you need to call on old faithful.
But if you choose to donate here is a list of place you can unload that scrap of Pentium 2  gridiron:
Of course the best places to sale a old PC is: